LONELY NIGHTS
Artist: Lorenzo Wood
Song Release Date: May 6th 2022
Young producer Lorenzo Wood is back with his own song, LONELY NIGHTS, a trappy guitar-based pop-punk lament that balances between the optimism of someday finding someone to love, and the darkness of being alone.
Similar artists: Jxdn, Machine Gun Kelly, The Kid LAROI, Travis Barker
This song has several distinct parts — the contemplative trap-like first part; at 1:25 a new verse brings in heavy guitar elements that let loose at 1:58 or so; at 2:36, a banger guitar solo and the final chorus.
"LONELY NIGHTS" is one banger of a song. Wood is relatable and vulnerable throughout…
…this single will surely have you jamming out.
Playing on the way that pop music accumulates elements from its surroundings, we get a nice synthesis of laid-back hip-hop grooves with the more ferocious strumming of a punk lineage. Wood dreams about the person he'll meet who will light up his life, but ultimately ends up drinking Modelo and pouring another shot while asking himself, "Am I an addict yet?".
It is a perfect piece of alternative rock, which has a lot of atmosphere and its style will catch your attention just by running the first minute.
Lorenzo writes:
I wrote LONELY NIGHTS originally for a songwriting class assignment to write something in a minor key. It summarized how I was feeling over the course of the year. Last year my roommates had gotten into relationships and I felt left out.

I didn't want it to be a totally depressing song so I added a bit of optimism, thinking about the future and what I want.

I thought the energy of the hip-hop drums and 808 and the electric guitars encapsulated the angst and emotion I was trying to convey. I had just bought a hollow body electric guitar, a D'Angelico EXL-1, and I sat down to write with it. That guitar inspired me to create some fresh sounds.

It had been a while since I had last released a song, so I really got to re-imagine my sonic signature. And since then, I've been creating more songs inspired by that sonic palette. I've been spending so much time producing other people's songs, that this was the first song in a while where I really got to focus on my own sound.
Web Page
Please use this URL to link to "LONELY NIGHTS": https://www.lorenzowoodmusic.com/link/lonely-nights
Album Artwork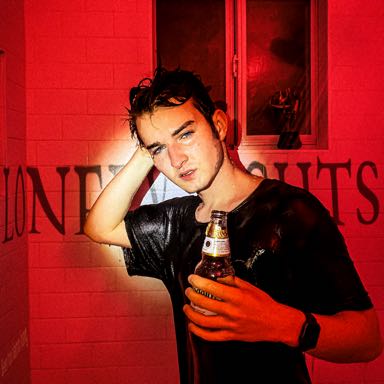 Lyrics
It's just another night I'm alone in my bed
Been too damn long it's all getting to my head
Thoughts keep flowing by and the bad ones stay with me
All I ever wanted was someone to lay here with me

I know I'll probably find someone someday that lights my life
Til then
Guess I'll have to get used to all these lonely nights

Was with my fellas
They with their ladies
We drinkin modelos 
We gettin faded

We say our goodbyes
Go back to our places
Now I'm alone while they all prolly getting laid yuh

Feel like I'm missing out
That I'm inadequate
Pour me another shot to help me to forget
Help me to forget

That it's just another night I'm alone in my bed
Been too damn long this shit's messing with my head
Thoughts keep flowing by and the bad ones stay with me
All I ever wanted was someone to lay here with me

I know I'll probably find someone someday 
That lights my life
Til then
Guess I'll have to get used to all these lonely nights

I dream about the day when 
I'm livin large and thriving
A brand new house with
A Bentley up the driveway

But that shit ain't important
All I really need is one thing
To wake up every morning 
With my honey right beside me


She gets all my jokes
Got chemistry like lightning
Her voice just like an angel  
And she likes to cook beside me 


So every night we 
Hop in that king size 
Stay up a little longer 
Make up for all that lost time 
When it was

Just another night I'm alone in my bed
Been too damn long this shit's getting to my head
Thoughts keep flowing by and the bad ones stay with me
All I ever wanted was someone to lay here with me

I know I'll probably find someone someday 
That lights my life
Til then
Guess I'll have to get used to all these lonely nights


Feel like I'm missing out
That I'm inadequate
Pour me another drink am I an addict yet?

Fuck that

It's just another night I'm alone in my bed
Been too damn long this shit's getting to my head
Thoughts keep flowing by and the bad ones stay with me
All I ever wanted was someone to lay here with me

I know I'll probably find someone someday 
That lights my life
Til then
Guess I'll have to get used to all these lonely nights